CHS 1960 – 1964
Year 12 results: 1st Class Honours in Calculus and Applied Maths, Physics and Chemistry; 2nd Class Honours in Pure Mathematics
Awarded a Commonwealth Scholarship and a Senior Scholarship
Completed BSc 1968; MBBS 1971; MD 1996 Univ. of Melb.
Completed PhD The University of Western Australia 2020
Specialist Anaesthetist
President, Holocaust Institute of WA 1990-2018
Benefactor to the Arts
Adjunct Associate Professor The University of Western Australia 2021 
 Dr Ben Korman remembers well his years at Camberwell High. He enjoys sharing some of his experiences with school age patients, employing humorous episodes to put them at ease pre-operatively. He uses calculus teacher Mr Burns as an example of how a good teacher can inspire respect for STEM subjects.
A top chemistry student in the Science Faculty, Ben transferred to the Faculty of Medicine in 1967. After graduating from the University of Melbourne in 1971, Ben worked at the Royal Melbourne Hospital before moving to Perth three years later to train as an anaesthetist. Since qualifying as a Specialist Anaesthetist in 1977, he has been in private practice, specializing in the area of dental and maxillofacial anaesthesia. In 2019, Ben was awarded Emeritus Consultant Status at the Royal Perth Hospital for more than 45 years of service, first as a Trainee Registrar and then as a Visiting Medical Officer.
Further study gained him the degree of Doctor of Medicine in 1996 at the University of Melbourne, allowing him to apply aspects of chemistry to anaesthesia. In 2017, at the age of 69, he enrolled as a part-time PhD student at the University of Western Australia. This was completed in 3 years, possibly a record for the university. One of his supervisors was the 2005 Nobel Laureate in Medicine, Professor Barry Marshall. Research for the PhD involved a sophisticated mathematical treatment of fundamental aspects of gas exchange in the lung. Both his MD and PhD degrees were obtained without academic appointment and were essentially self-driven. His papers on this work have been published in leading peer-reviewed journals in the fields of anaesthesia and physiology: ANESTHESIOLOGY, British Journal of Anaesthesia and the Journal of Applied Physiology. In 2021, Ben was accorded status at The University of Western Australia as an Adjunct Associate Professor in the School of Medicine.
Ben is married to Helen and has three children. An avid collector of Aboriginal art, he has donated many paintings to art galleries such as Heide, The Art Gallery of WA, The National Gallery of Victoria and several universities and hospitals in Western Australia. For his donations to the John Curtin Gallery at Curtin University, he was made a Fellow of the John Curtin Centre. He is a vice-patron of the Art Gallery of Western Australia.
In 1989, in response to a concerted campaign of racist propaganda by the Australian Nationalist Movement, he established the Holocaust Institute of WA, an organisation similar to the Melbourne Holocaust Centre, which educates young Western Australian schoolchildren about the dangers of racism and discrimination. For this, and his contribution to the Arts, he was awarded a Medal of the Order of Australia in 2012.  Updated 2021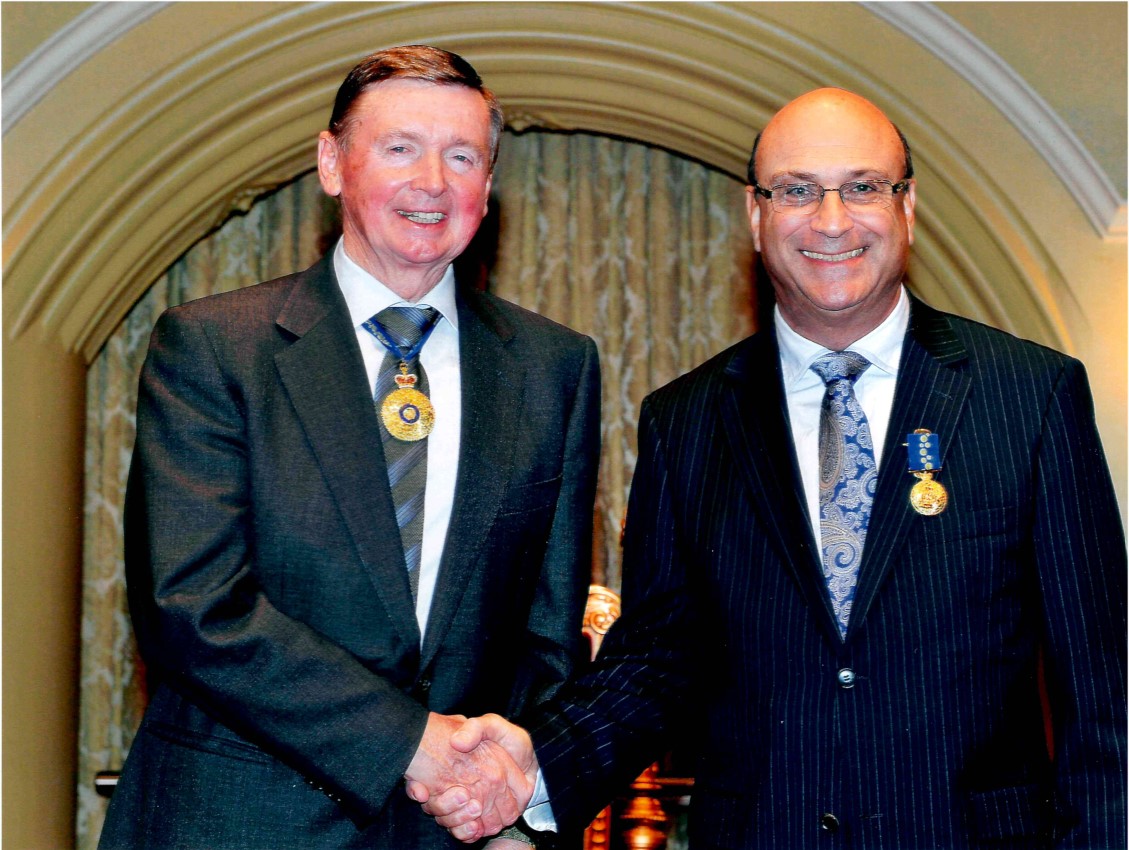 Dr. Ben Korman (right) receiving his OAM from the Governor of Western Australia, Malcolm McCusker, 2012