CHS 1955 – 1958
Co-editor of Prospice 1958
Attained Second Class Honours in British History; Modern History and Economics. Awarded a Commonwealth Scholarship
Admitted to Victorian Bar 1964
Crown Counsel of Hong Kong 1972 – 1974
Appointed Queen's Counsel 1988
Solicitor-General of the Solomon Islands 2003 – 2006
Nathan was born in Shanghai, China and migrated to Australia with his family in 1951. Thanks to his education in Shanghai, he already had a good grip on English when his family arrived in Australia. His first school was Canterbury Primary School for a brief period before moving on to Camberwell Central School. From there he continued his education at Camberwell High School where he matriculated in 1958. During his time at CHS he became involved with the Prospice committee and eventually became co-editor. Among the teachers at Camberwell High School, Nathan credits Bob Ewins for helping forge an interest in English studies.
Having gained a Commonwealth Scholarship, Nathan studied law at the University of Melbourne. On graduation in 1963 he was admitted to practice. The following year he was admitted to the Victorian Bar. By then he had established a practice specialising in civil and criminal law where he appeared for clients in the Supreme Court of Victoria, the County Court of Victoria and the Federal Court of Australia. In 1972 Nathan was appointed Crown Counsel for Hong Kong where his experience in civil and criminal law informed his duties with the Attorney-General's Chambers.
Nathan returned to Melbourne in 1974 and in 1988 he was appointed Queen's Counsel, establishing a practice in common and administrative law, arbitration and mediation and commercial law. As a well-respected silk, he was involved in a number of notable cases including the Commonwealth vs Verwayen case, after the tragic collision experienced by HMAS Voyager. Other cases where Nathan's legal expertise came to the fore were the Naxakis vs Western General Hospital and D'Orta Ekenaike vs Victorian Legal Aid.
On an international scale, Nathan served as Solicitor-General for the Solomon Islands (2003-2006). Also in the Pacific he appeared in a constitutional case in Fiji and was advisor to the Attorney-General of Nauru. In 2013 and 2014 he represented a mining company pursuing an administrative law case in the High Court and the Court of Appeal in the Solomon Islands.
Nathan has served as Chairman of the Victorian Bar Law Reform Committee and as Director of the Australian Centre for International Commercial Arbitration. He has been keenly sought as a lecturer in his various fields of expertise and engagement, among which has been his involvement in the Regional Assistance Mission to the Solomon Islands.
Although retiring in 2015, Nathan is still engaged in mentoring and advising on matters pertaining to the law. He also maintains his interest in the law through academic advice for a publisher in the development of a law dictionary.
Addendum
http://www.nathanmoshinskyart.com
Over the last 20 years Nathan has developed and pursued an interest in drawing and painting. He has completed a Diploma of Visual Arts which has expanded his knowledge and appreciation of visual arts practice. Largely self-taught, he seeks to explore the relationship between the physical world and the world of imagination. His subject matter is often landscape, fruit, flowers or assembled objects. However, through the interplay of colour and composition, he endeavours to place these everyday objects in an imagined context. Updated 2020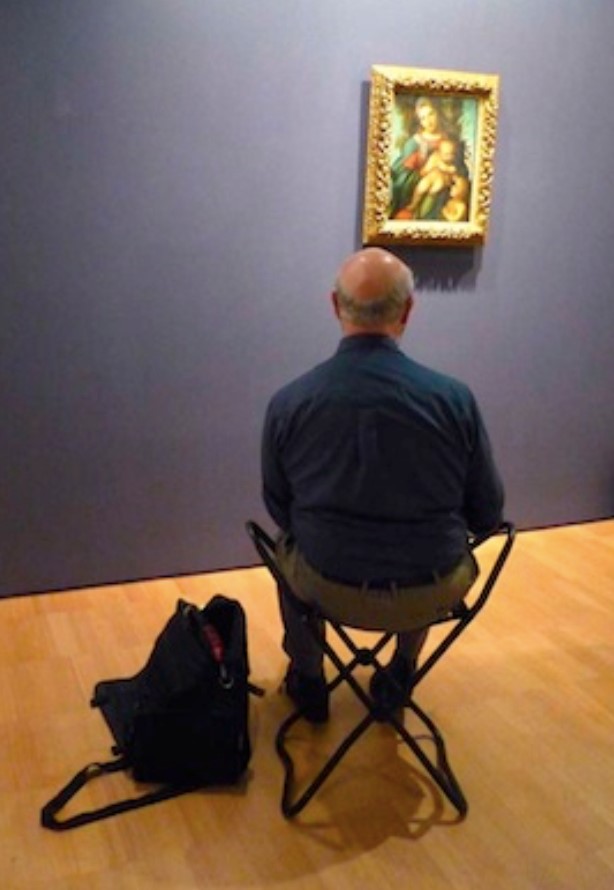 The artist in contemplation, Nathan Moshinsky, is seen here at the National Gallery of Victoria in 2012. Photograph by Dr Julie Joy Clarke, School of Culture and Communications University of Melbourne.