Headmaster from 1948–1952 and 1958–1965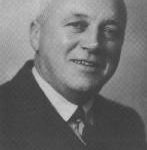 Roy Andrews trained at the Melbourne Teachers' College and specialised in science and mathematics throughout his teaching life. He taught these subjects at Ballarat, Essendon, Mildura and Kyneton, and became headmaster at Warrnambool High School in 1940 before coming to CHS in 1948. In 1952, the school was classified as "Special Class", and this necessitated a move to Dandenong High School for Mr Andrews so that a more senior person, Mr Ebbels, could be elevated to the new position of principal.
Mr. Andrews returned to the school in 1958 following the retirement of Mr. Ebbels, and took up the position of Principal.
OBITUARY – MR R W ANDREWS, from the 1970 Prospice
It was with the deepest regret that the school learned of the death on April 30th, 1970 of Mr R W Andrews, B Sc, B Ed, principal of Camberwell High School from 1948 to 1952 and from 1958 until his retirement in 1965.
It would be difficult to recount here adequately the contribution made by Mr Andrews in that long period of service, to the growth and traditions of Camberwell High School. He was first appointed as principal soon after the school was established and devoted himself to the day of his retirement to its welfare and the maintenance of its high standards and reputation. Many hundreds of ex-students and teachers will remember his wise and kindly guidance, his quiet sense of humour and his personal concern for each boy or girl or member of staff.
His keen interest in inter-school sport, particularly in rowing, is commemorated in the school racing shell named for him. In the years after his retirement, he continued to be an enthusiastic supporter of Camberwell High School at the Victorian High Schools' Rowing Regatta.
To Mr Andrews and his Advisory Council and parent bodies, we owe the original planning and negotiation for the erection of a school assembly hall. Before his retirement, he had the satisfaction of knowing that their preliminary plans had been approved. It would have given him great pleasure to have been present at the Official Opening of the new hall and class room block this year.
The school extends its sympathy to Mrs Andrews and to his son, Mr J Andrews, and dedicates this issue of Prospice to his memory.